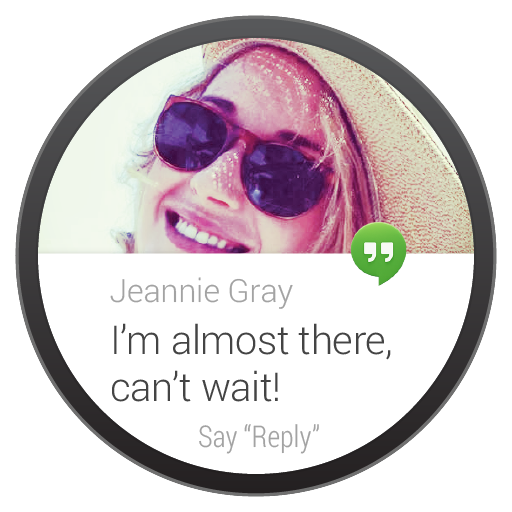 The full-force all-channel multi-announcement multi-product rollout of Android Wear and its supporting devices looks to have conquered the emerging smartwatch product category. Chris Meadows tagged the emerging Google smartwatch platform as the one to watch in this space a while back, and it looks like his call has been vindicated. And meanwhile, the much-vaunted iWatch is nowhere.
" Today we're announcing Android Wear, a project that extends Android to wearables," announced Sundar Pichai, SVP for Android, Chrome & Apps, on the official Google blog. "And we're starting with the most familiar wearable—watches."
Google already has a developer preview up and running with design principles listed out, and an SDK just round the corner, so appsters can start developing and porting very soon. The preview includes an Android Wear emulator and "tools and APIs that allow you to enhance your app notifications to provide an optimized user experience on Android Wear."
The new Android Wear interface borrows heavily from both Google Now and Google Glass, but also leans heavily on voice interaction, which Google has already developed to a pretty mature iteration with Google Voice. So no pecking at keyboards on tiny wrist devices.
Product announcements came right out of the gate with the Android Wear debut, with Motorola ("now a Google company," as it declares) announcing the Moto 360, "coming summer 2014," and LG likely to be a little ahead with the LG G Watch. Fossil and other watch manufacturers are due to follow suit. Pebble may face difficulties keeping its own platform out of the Android camp in future, while Samsung just managed to get its SDK out for the Tizen OS implementation on its Galaxy Gear smartwatches before the Android Wear announcement. However, Samsung is also on the list for Android Wear partners, and has a history of developing products that run Tizen while using almost the same technology for Android OS devices. Plus, the Android Wear rollouts appear to have seized the high ground in mindshare, with slick implementation demos and videos that far outdo the Tizen SDK announcements.
Whether this leads to a new breed of wrist ereaders, using something like the Spritz speed reading technology, remains to be seen. But it looks like the future has finally arrived for smartwatches. Except at Apple.