This collection of 35 dark tales groups stories that have appeared in other collections or in magazines, so readers should check the list of contents in Prime Books' online catalog to make sure of what is really new to them before parting with their money. But that's almost the only qualification that needs to be made to an otherwise excellent guide to what's been going on on the literary dark side through 2012.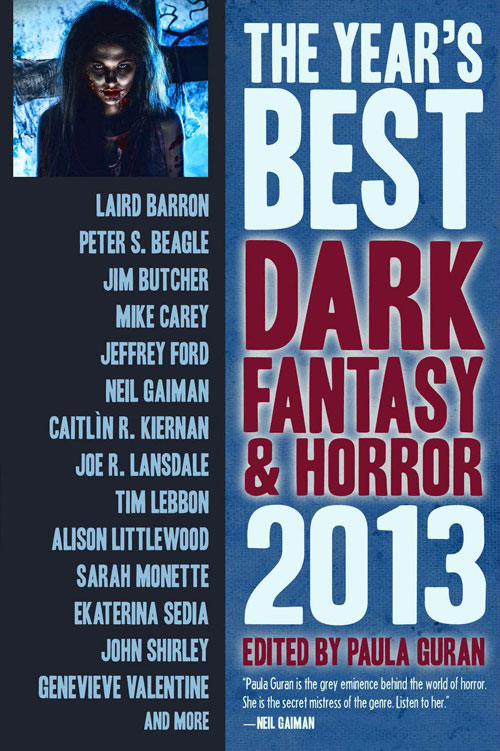 There are established names, like Neil Gaiman and John Shirley. There are rising stars of the smaller press and alternative/ fan circuit, like Laird Barron and Cory Skerry. And there are entirely un-Anglo-American voices like Priya Sharma and Karin Tidbeck. The variety is part of the richness of this collection which, helped perhaps by its wide-ranging genre tags, goes well outside the usual norms of horror fiction. Slasher aficionados be warned: this is not the volume for you.
As the "dark fantasy" tag in the title indicates , this collection is about more than pure horror. "Consider the words: dark fantasy and horror," Paula Guran says in her "Instructions for Use" for the collection. "Both are highly debatable and constantly changing literary terms … A dark fantasy or horror story might be only a bit unsettling or perhaps somewhat eerie. It might be revelatory or baffling. You might be "scared" or simply unsettled—or not." That may leave some readers disappointed by some of the stories, and inevitably in such a long and varied anthology, there are going to be one or two weaker entries (including perhaps, surprisingly, Gaiman's). But those really do amount to just a couple out of the 35, and some of the rest are good enough to be included in not just the best dark fantasy and horror of this year, but of any year so far this century.
Personal favorites include Theodora Goss's chilling – in several senses – "England under the White Witch" and Laird Barron's "Hand of Glory" – a dash of Lovecraft mixed with two fingers of rye in Hell's own speakeasy. Jeffrey Ford's "A Natural History of Autumn" and Rachel Swirsky's "The Sea of Trees" both give Western readers a Ring-side seat in a ghostly Japan observed with the Eye of a native. And this was my first encounter with Jim Butcher's Dresden Files, but "Bigfoot on Campus" showed me what I've been missing.
There is more. And much more. As Guran insists, horror is "about finding, even seeking, that which we do not know. When we encounter the unknowable we react with emotion. And the unknowable, the unthinkable need not be supernatural. We constantly confront it in real life." This is an excellent field to some of the many guises in which we can encounter it.
Tele Read rating: 4.0