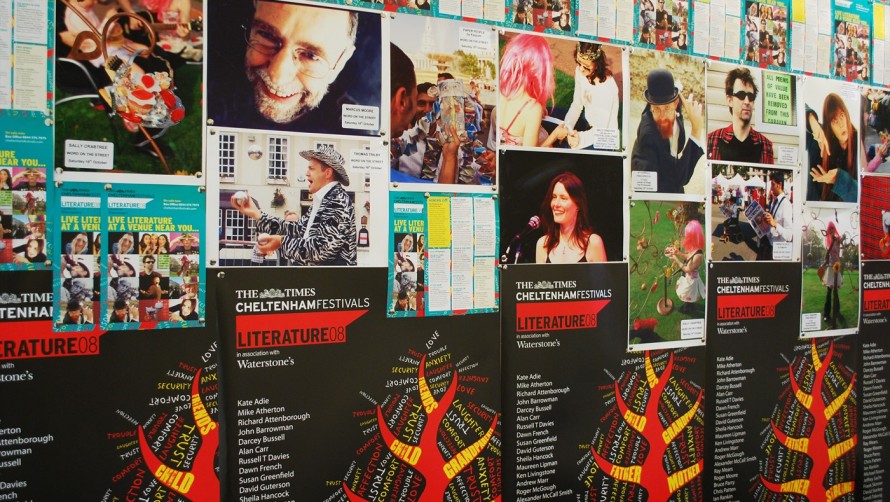 The topic of fair pay for authors and other speakers participating in literary festivals is one that simply doesn't ever seem to go away. I wrote a piece a couple of years ago highlighting how, in the words of Susan Hill, "litfests make a lorra lorra money for those who run them" – and those organizers and managers sometimes seem content to take that money off the table while letting little or none of it go back to the writers whose names crowd their programs. Now Jane Furze, the director of the Cheltenham Festival of Literature, has made a public statement in The Bookseller to support the principle of paying authors to turn up at literary festivals.
"We could not exist without these writers and the inspiration they provide, so we want every author to have a great experience and feel welcome and celebrated," she says. "We understand that it needs to be worthwhile for authors to come to Cheltenham, so we pay all speakers and ensure expenses are covered, and that frontlist and backlist books are in stock."
This follows a complaint by Joanna Trollope that the UK litfest scene was being distorted by celebrity-chasing. "Celebrities usually won't appear without a substantial fee – so they headline as loss leaders, and authors pay the price," she complained. "These international festivals, which once prided themselves on treating all their authors the same, are now offering large incentives to politicians, musicians and actors, whilst still expecting ordinary fiction writers to work for free. In some cases, authors have even been asked to pay a contributors' fee for the privilege of working for free."
Peter Florence, director of the Hay Festival, has spoken out in response to criticisms of festival author compensation, declaring that authors were paid "fees in money, books or wine." However, the Hay Festival, which has also rolled out an international franchise network of smaller Hay Festivals elsewhere, has been singled out for criticism on this, by Guy Walters as quoted in my original article, and others.
Full information on the Cheltenham series of festivals is available here. "Cheltenham's four inspirational festivals have been at the fore-front of the UK's cultural scene since the inaugural Music Festival in 1945," it states. "From just three concerts at the very first Cheltenham Festival, the four festivals now feature nearly 1,000 events and sell over 215,000 tickets annually. Alongside box office sales we rely on sponsorship, grants and charitable giving to secure our international profile and position at Cheltenham's cultural core."