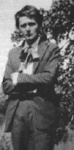 Clark Ashton Smith, Californian horror and weird fiction author, and artist and sculptor, was born this day on January 13, 1893. He lived until the Sixties (just), dying on August 14, 1961, but is best remembered for his dark and fantastic writing of the pre-war period, which had already won him recognition at age 19 with his first collection of poetry, The Star-Treader and Other Poems (1912). Smith spent much of his early life writing poetry, which earned him the admiration and enthusiastic support of H.P. Lovecraft among others, but in 1929 was driven by poverty and the Depression to produce short fiction for Weird Tales and other outlets, until the death of his parents effectively shut off his creativity after 1935.
In that short time, though, Smith cemented an enduring reputation as one of the stars of the Weird Tales inter-war school of horror and weird fiction. As Lovecraft wrote in his Supernatural Horror In Literature:
In sheer daemonic strangeness and fertility of conception, Mr. Smith is perhaps unexcelled by any other writer dead or living. Who else has seen such gorgeous, luxuriant, and feverishly distorted visions of infinite spheres and multiple dimensions and lived to tell the tale? His short stories deal powerfully with other galaxies, worlds, and dimensions, as well as with strange regions and aeons on the earth. He tells of primal Hyperborea and its black amorphous god Tsathoggua; of the lost continent Zothique, and of the fabulous, vampire-curst land of Averoigne in mediaeval France.
Fortunately, even though Smith died a recluse in California some 30 years after his most fertile creative period, much of his work is available in ebook form either completely free or for very low prices, depending on your preference. The terrific commemorative website The Eldritch Dark, "a site to facilitate both scholars and fans in their appreciation and study of Clark Ashton Smith and his works," includes all his surviving stories and poems, as well as a gallery of his fantastic and very quirky art. His first collection of verse is available on Project Gutenberg as an ebook. And for those who don't want to go to the bother of collating their own etexts at The Eldritch Dark website, there are any number of ebook editions accessible via Amazon, some very cheap indeed. Enjoy.