The mystery paper sculptor who has been crafting sculptures in celebration of reading and literature across Scotland outdid herself this weekend with a delivery of an entire flock of sculpted birds to the Edinburgh International Book Festival.
Presented in a surprise delivery of blue bags to the Festival Book Shop, the birds, including "a heron, an egret and a crow to celebrate Iain Banks' 'The Crow Road,'" arrived in thirty cages with instructions on how to set them free, " ranging from somewhere far away, to a writer of beautiful things," according to the Festival's press release.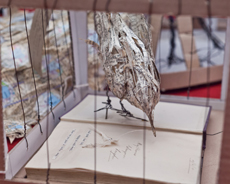 The birds gifted to the Festival will remain on show in its Signing Tent for the Festival's final week.
As it happens, the bird sculptures weren't the only avians drawn to the Festival. Here is one juvenile seagull seen auditioning for Chekhov at the Festival grounds in Charlotte Square Gardens.