From the press release.  This really has a lot of implications for both publishing and marketing and if you are going to BEA I suggest you check them out.  (Blockquotes omitted)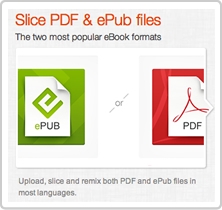 Without having to alter their time-honored editorial policies, publishers will be able to generate revenue by selling their content in slices and remixes that fit with the modern world of Internet and mobile technology.
Broomfield, CO (PRWEB) June 01, 2012
At BookExpo 2012, June 5-7, 2012, in New York City, Slicebooks will unveil a sneak peek at the first technology designed to help publishers compete with the Internet. With Slicebooks, publishers will have the new-found ability to convert existing book, journal, and magazine content into "slices," and to sell those slices independently or to "remix" them into new custom ebooks. Publishers will be quickly empowered to re-purpose and resell existing intellectual property easily and at low cost.
Ever since the Internet went public in the 1990s, publishers have scrambled to update their business models in order to maintain revenue streams and to grow profits. And yet, the Internet's disruptive technology cannibalized retail sales, library searches, and advertising revenue. The millions of book, journal, and magazine customers who used to rely upon those media now routinely turn to online content of often dubious merit.
"Slicebooks will be the publishing industry's first 'Restorative Technology,'" said Slicebook's Chief Executive Office Jill Tomich. "With Slicebooks, publishers will be restored to their rightful place as the source of the highest quality content. Without having to alter their time-honored editorial policies, publishers will be able to generate revenue by selling their content in slices and remixes that fit with the modern world of Internet and mobile technology."
Here are nine ways publishers will benefit from Slicebooks:
1.    Beat the Internet – When people search the internet, they often are looking for just a slice of information. Existing online content is abundant but not rigorously reviewed. With Slicebooks, publishers' editorially-vetted content guarantees searchers of having access to what has traditionally been the most reliable information available.
2.    Publish in Minutes – In minutes, publishers can upload a book, slice it, edit the metadata, and distribute it to their own sales channels or to the eBookPie store. And with Batch Slicing publishers can slice hundreds, even thousands of ebooks. Slices can be sold as standalone short content or mixed and matched to create new custom eBooks or singles. And, as the sale of each content slice is accounted for electronically, authors and agents, as well as publishers, are guaranteed the revenue they deserve for their efforts.
3.    Choice Rules! – The internet has taught us to expect choice. Music customers buy music whole or sliced, and burn playlists of songs from many sources. With Slicebooks publishers can offer readers the same freedom. Slicebooks builds upon a proven contemporary business model.
4.    Every Teacher's Dream – With increasing resistance to textbooks costs, teachers admit to copying chapters from books manually to staple together custom student guides. With Slicebooks teachers can still create the custom mixes they desire, while publisher and author revenue is maintained.
5.    Short is HOT! – In a recent 14-month span Amazon sold two million "singles". (Singles are shorter than full-length books but longer than most magazine articles.) Slicebooks allows publishers to participate in this burgeoning market.
6.    Soar on Search Engines – The #1 referrer of most websites' traffic is organic search through services such as Google. With Slicebooks, a travel guide sliced into 20 published singles has 20 more chances of being found by search engines. This increases publishers' search results, sales potential, and brand exposure.
7.    Emancipate Backlist – A bedrock of book publisher profitability has been the ability to generate revenue from their backlist. This is because reprinting existing titles with no or low development costs boosts net profitability. Publishers with tens, hundreds, or even thousands of backlist titles can now slice, publish, or remix them into new books with low development costs.
8.    A New Sales Channel – Chapters and singles can be priced in that bargain sweet spot eBook buyers seek. Slicebooks creates a new sales channel.
9.    Save on Resources – Slicebooks is so easy that one person in a few minutes can create and publish new, sellable digital content using only existing ebook files, saving publishers time and resources while greatly expanding digital catalogs.
"In the 1990s, publishers were broadsided by the Internet. Not knowing how to respond, some hid and others opened up their content for free downloads," said Tomich. "Ever since then they've tried to put that toothpaste back in the tube, but it's too late. What they needed is a way to seize the upper hand on the Internet. With Slicebooks, they will soon have the power to do so."
Publishers can see Slicebooks in action in Booth DZ2125, in the Digital Zone, BookExpo America, June 5-7, 2012, Javits Center in New York City.