Latest 3Q2013 figures on the state of the global mobile phone market from technology market intelligence house ABI Research show Samsung chewing into other vendors' market share, and especially at the expense of proprietary OS platforms like Apple and BlackBerry. "Samsung retained its lead in handset shipments and grew its share of smartphone shipments to 35%, while Apple share remained flat at 14%," stated the report.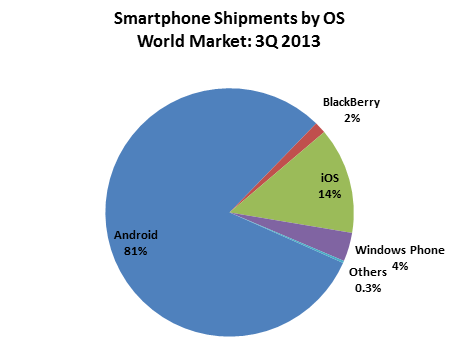 Thanks in part to Samsung, Android remains by far the most popular OS, and is also increasing its lead. "Supported by strong Android shipment growth from Huawei, Lenovo, Xiaomi, and Samsung, Android reached a new high of 80.6% shipment share in Q3," said ABI senior analyst Michael Morgan. That said, Windows Phone did achieve 165% growth year-on-year, with Nokia delivering 95% of that growth, but this appears unlikely to topple Amazon.
"The race for the third ecosystem is clearly favoring Windows Phone with 4% market share, over BlackBerry's 1.5%, but there remains little opportunity for new market entrants to make a significant impact on Android's dominance," continued Morgan.
And although there is no sign that Apple is headed for irrelevance, ebook enthusiasts wishing to take the long view about their technology choices might want to digest ABI's predictions about the iPhone. "Even with a record Q4 for the iPhone, Apple is only expected to achieve 18.7% market share which is down from the 22.6% Apple achieved in Q4 2012, due to Android's growing dominance and the importance of emerging markets," remarked ABI senior practice director, Nick Spencer. The latest cheaper iPhone 5c model is not forecast to make much difference to Android's emerging markets dominance.