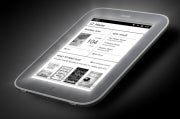 The reviews keep on getting better and better. From Macworld:
Barnes & Noble has made the best e-reader currently available even better by integrating a light source into it. Priced at $139, the Nook Simple Touch with GlowLight E Ink-based e-reader sets the standard for silky-smooth reading and shopping. And even better, you can enjoy reading it wherever you happen to be, whether you're lounging on the lawn in bright sunlight, or sitting under the covers with little to no light in the room. …
At $139, the Nook Simple Touch with GlowLight is the best e-reader you can buy today. The built-in light makes for a compelling addition, and puts this speedy e-reader in a class by itself until other manufacturers play catch-up. The illumination alone is worth the premium, but honestly it's not so much of a premium when you consider that archrival Amazon continues to sell its Amazon Kindle Touch, without Special Offers advertisements and lacking a light, at $139. That alone should make bookworms bask in the glow of the Simple Touch with GlowLight.