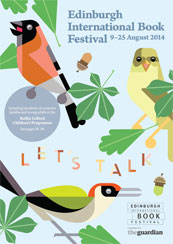 Since being killed by George R.R. Martin is apparently the latest fad, I'm glad to be able to report that if you turn up for this year's Edinburgh International Book Festival, there is a slight but distinct possibility that he may kill you too. He might knock the mike over onto your head during a reading. Or his hired car might run you over. He might even trigger a fatal attack of GoTMania during his talk on "Creating brave new worlds." After all, you have a much greater chance of being killed by him if you go to the Festival and meet him than if you don't, no?
As well as the small but measurable chance of being killed by George R.R. Martin, highlights of this year's Edinburgh International Book Festival, which runs from August 9th-25th in Scotland's historic capital, include Martin Amis talking about "Laughing in the face of evil" and his new Holocaust novel, Margaret Drabble presenting her "First new novel for seven years" and the one that apparently she said she would never write, "Selfish Gene" author Richard Dawkins recounting "The genesis of a scientist," Haruki Murakami giving a rare interview on being "Japan's greatest living author" and other topics, and so on. And on, And on. The full programme is available here.
The Edinburgh International Book Festival already described last year's event as their best ever. To judge from the caliber of the authors in this year's program, things have only got better. Plus, this year's Festival, coming just one month before the historic referendum on Scottish independence, is bound to have an even higher cultural and even political charge than normal. This is probably the single most important literary event in the UK in any year, and in 2014, absolutely unmissable.